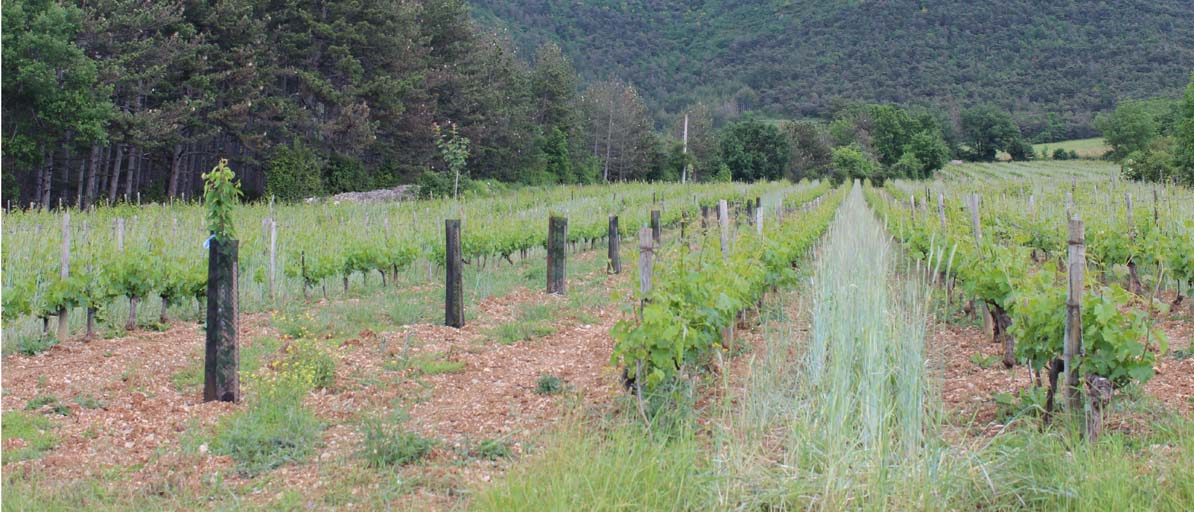 Our practices
Biodynamics
Biodynamics is primarily a global approach to farming, which sees agricultural and viticultural domains as living organisms where humans take into account their entire environment. This same approach applies to the soil, populated by microorganisms, roots and animals.
The role of the biodynamic farmer is to maintain this balance and invigorate the whole with biodynamic preparations, based on natural products and medicinal plants. Respect for the natural rhythms that influence our planet and all the life it hosts makes it possible to increase the efficiency of work on the vines.
The plants send down deep roots and present themselves to sunlight and the influences of the cosmos, thus finding balance and health.
Demeter wine is also certified in organic farming and complies with very strict specifications. The use of copper in the vines is limited by half, fewer oenological inputs are used and the quantities of sulphites are much lower. The yeasts present in the vineyard lead to the fermentation ( source: « Vin Demeter, la biodynamie réveille les terroirs ! » , brochure from Demeter France).
The wine expresses the characteristics and balance of its soil with mineral notes that hint of its connection to the land.
Concretely, here are our different practices: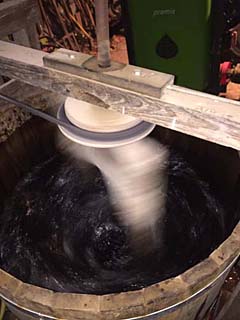 Use of preparations based on natural products (cow manure, silica) and medicinal plants (nettle, horsetail, dandelion, yarrow, chamomile, oak bark, valerian).
Their dynamic use is a step that consists, after dilution in water, of generating a vortex motion in one direction, then in the other for 20 minutes or 1 hour depending on the case. This upholds the homeopathic principle. Once energized, we spray the product on the soil or leaves, in large drops or as a mist. The process is highly codified.
Use of a lunar and planetary calendar to respect natural processes and work with cosmic rhythms.
Use of herbal infusions: horsetail against fungi, nettle against parasitic attacks, chamomile to temper climatic extremes.
Biodynamics, then, is an extremely demanding but a fascinating practice.

Agroforestry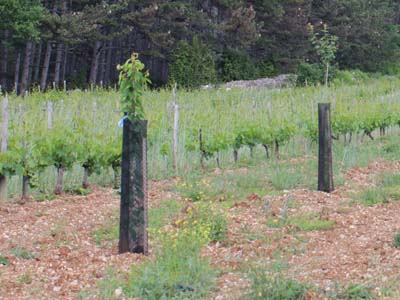 Planting a tree is a gesture of wisdom.
Planting an orchard is an altruistic action.
Planting a nourishing forest is an energy revolution.
This ancestral practice, resulting from Mediterranean traditions, associates the vine with fruit trees: olive trees, peach trees, almond trees and fig trees. Grape vines are a climbing plant and can benefit from growing alongside a companion tree because of the elements captured by its root system. The berries and aromatic plants enrich the ecosystem.
In Die, the tree project was initiated by Alexandre Mauras from the European Network of Sustenable Forest. It was supported by a fund-raising campaign and appeared as a great cooperative adventure: we plant together, we grow together, we share the harvest.
Specifically, 150 fruit trees were planted: cherry, persimmons, quince, walnut, medlar-tree, plum tree, apple tree, peach tree, almond tree, fig tree, pear tree as well as berries and herbs. These enrich the ecosystem by attracting bees and other pollinators. Each has its own properties: oregano and hyssop improve the productivity of the vine, while lavender and mint keep away harmful insects.

Green fertilizers
Significant plant coverage consisting of one or more fast-growing species, are incorporated into the soil (thus not harvested) to increase the fertility.
Physically, it improves the porosity of the soil and hinders gully erosion on our sloping plots of land.
It promotes the mobilization of mineral elements and intensifies the biological activity of the soil by providing organic nitrogen and fast sugars.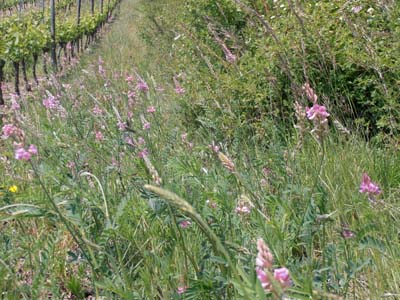 Moreover, it contributes to a better control of soil contamination by limiting the development of adventitious plants
1
, especially if its growth is fast and if it provides good coverage.
In addition, it reduces the pressure caused by diseases and parasites.
However, do not let it climb too high during a period of significant frost …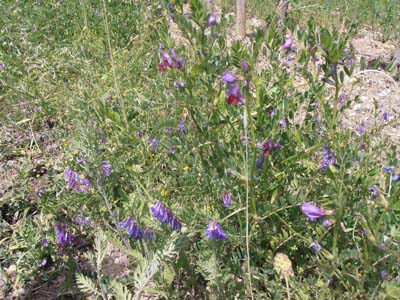 Sown in the fall or spring, this green manure is crushed before it competes with the vine for water, then it is buried superficially to restore nitrogen when the vine needs it most.
Our little favorites, suitable to our soil, are: crimson clover, sainfoin and rye-vetch mix.
Yet another quality that doesn't spoil anything: it's so beautiful!
---
1 adventitious plant: a plant that grows in a place where it has not been intentionally planted.